Super Trooper
Established Member
Joined

Nov 9, 2003
Messages

4,384
Location
Morning All,
If you're like me with an older blower like 2.3 Whipple/Roush/TVS/VMP or similar type, you may have to check on your steel transfer tubes to the intercooler. I recently noticed my car felt "not as fast" and it was discovered that my inlet/outlet tubes were completed clogged with rust and corrosion. No coolant flowing meant extra heat, and that extra heat caused a mild surge around 3-4k RPMS at WOT. The car went nowhere fast. The coolant pump stopped working too, but is back up and running.
Thankfully I saw that VMP had improved upon this Ford design and I had these parts overnighted from Florida to California. This next part will sound unorthodox, but I used CLR in the coolant system to break up any remaining corrosion in an all aluminum system. After a weeks worth of flushing and purging the system, we're back to clean / clear fluid. She runs great again.
Pics attached of how bad it was.
Big thanks to Shaun @ AED for helping me figure this out. Thanks for reading.
YouTube Link to VMPs video on this.
Parts that I used.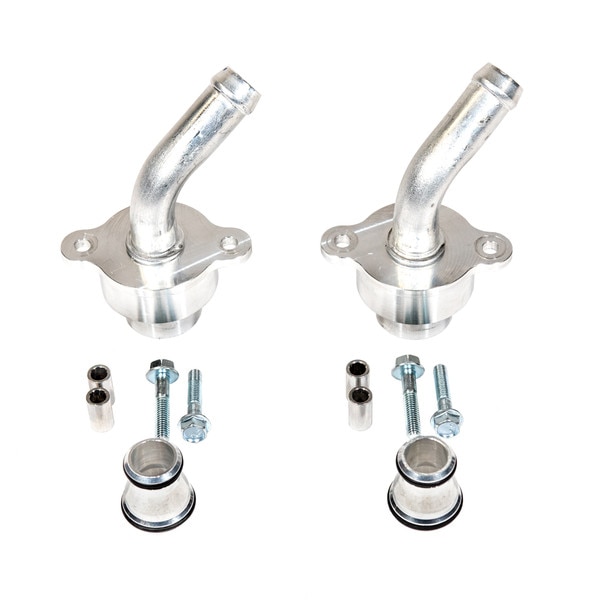 Have the intercooler system water tubes (nipples) rusted out on your '11-'17 Roush Supercharged Mustang? VMP has designed a solution! VMP '11-'17 Coyote Roush Replacement 3/4" Aluminum Fitting and Tube KitAll-aluminum construction - no rustingAdjustable - rotate to position and then tighten down...

www.vmpperformance.com